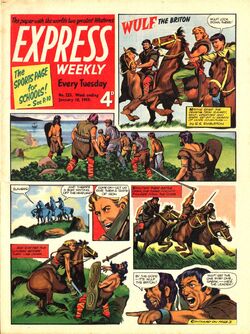 Wulf the Briton was a long-running historical adventure strip that ran in full colour on the front page of Express Weekly. It started out in 1956 as a Roman gladiator strip with an international ensemble cast, under the title Freedom is the Prize, written by Jenny Butterworth and illustrated by Ruggero Giovannini. It soon focused on the leader of the ensemble, and was rechristened Wulf the Briton after him. A few months into 1957, Giovannini left Express Weekly after a dispute with his agent, and Alan Pollack filled in briefly, before Ron Embleton, who had already drawn a Wulf strip for the Express Weekly Annual, took over as a permanent replacement. Embleton persuaded Butterworth to slim down the supporting cast, and later took over writing as well as drawing the series, taking Wulf to Egypt and then home to Britain to fight against Agricola's legions. In 1959 the strip expanded to the two colour centre pages. Embleton left in 1960, and the strip was relegated to the black and white inside pages, drawn by other artists, until 1961.
Ad blocker interference detected!
Wikia is a free-to-use site that makes money from advertising. We have a modified experience for viewers using ad blockers

Wikia is not accessible if you've made further modifications. Remove the custom ad blocker rule(s) and the page will load as expected.