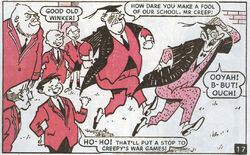 "Winker Watson" is a strip that ran in The Dandy, originally drawn by Eric Roberts. The strip first appeared in the 1961 annual, and first appeared in the weekly comic in April 1961.
A pupil at Greytowers School (Possibly influenced by Greyfriars), Winker was, apparently, the world's wiliest wangler, constantly playing tricks and avoiding unpleasant school activities, much to the chagrin of his teacher Mr Clarence Creep (known to the boys as Creepy). Winker's Best pal is called Tim Trott, also known as 'Trotty'. Aside from Sandy, who appeared in some of the later strips, there has never been any focus upon any of the other boys in the school.
The stories are often continuous from issue to issue. There have been many serials throughout the comic's run, some of which lasted for months. Examples have included a story about Winker's uncle Arnold arriving as a Physical Training instructor and Winker's endless attempts to get rid of him, as well as other, more far-fetched serials including one where Aliens invade the school and one involving ghosts.
Eric Roberts was the original artist for Winker watson. He drew it from the start in 1961 up until the early eighties. After this, earlier strips were reprinted in the comic, and Tom Williams drew new stories for the annuals and Comic libraries. In the early nineties, Terry Bave was approached to drew new strips. he continued to draw Winker watson until 2002. This was when Terry Bave was replaced by Stephen White. Winker Watson carried on until the Dandy's 2004 relaunch, when he disappeared for a short while before returning the following year, still drawn by White. Winker Watson was finally dropped in 2007 when the Dandy Xtreme replaced the Dandy in 2007.
Ad blocker interference detected!
Wikia is a free-to-use site that makes money from advertising. We have a modified experience for viewers using ad blockers

Wikia is not accessible if you've made further modifications. Remove the custom ad blocker rule(s) and the page will load as expected.