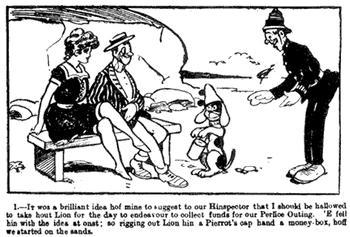 William Richard Spurrier was born in Portsea, Hampshire, in the first quarter of 1869, the son of Samuel William Spurrier, a draper, and his wife Mary Ann, née Read. He drew comics for various publishers, including:
He was unmarried and living in Portsmouth with his parents in the 1901 census, and with his widowed mother in the 1911 census. A William R. Spurrier married Edith F. Mitchell in Portsmouth in 1926, when our Will would have been 57. There don't appear to have been any children of the marriage. He died in Portsmouth in the first quarter of 1938.
References
Edit
Alan Clark, Dictionary of British Comic Artists, Writers and Editors, The British Library, 1998, p. 156
Denis Gifford, Encyclopedia of Comic Characters, Longman, 1987, pp. 27, 222
Online reference
Edit
Ad blocker interference detected!
Wikia is a free-to-use site that makes money from advertising. We have a modified experience for viewers using ad blockers

Wikia is not accessible if you've made further modifications. Remove the custom ad blocker rule(s) and the page will load as expected.