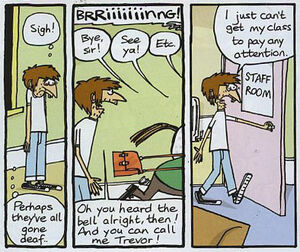 Wilbur Dawburn is a writer and artist based in High Wycombe, Buckinghamshire.[1]
His strips include the webcomics The Barnstables and Colin the Dionsaur; "Born-Again Computer Geek", for the magazine PC Utilities; "The Sticks", for Foghorn magazine; "Rocky's Horror Show" and "Mr. Meecher, The Uncool Teacher!" for The Dandy; and "Boskin & the Bear" for The DFC.
References
Edit
External links
Edit
Ad blocker interference detected!
Wikia is a free-to-use site that makes money from advertising. We have a modified experience for viewers using ad blockers

Wikia is not accessible if you've made further modifications. Remove the custom ad blocker rule(s) and the page will load as expected.