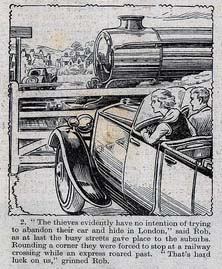 Walter Henry Booth was born in Walthamstow, Essex, on 8 May 1889, was educated at Walthamstow Art School, and joined Carlton Studios as an assistant in 1908. His first comic strips were for James Henderson & Sons' publications, including "Private Ramrod" (1910) for Comic Life, "Professor Potash" (1915) for The Big Comic, and "Daniel Dauber" (1915), "Lemon and Dash" (1918), "Peggy and Peter in Toyland" and "Jumbo" for Sparks. Henderson's comics were bought out by the Amalgamated Press in 1920.
Booth drew probably the first adventure serial in British comics, "Rob the Rover", for AP's Puck, and later Sunbeam, from 1920 to 1940. He also drew "Funny Folk's Forest" (1922) for Sunbeam, "Victor's Adventures" (1927) for Lot-O'-Fun, "Jingles' Jolly Circus", "Orphan of the Sea" (1930), "Cruise of the Sea Hawk" and "Captain Moonlight" (1936) for Puck, and "The Pirate's Secret" (1939) for Happy Days.
After the Second World War he worked for smaller publishers, including Scion and Martin & Reid, drawing for titles such as Merry Maker (1946), Jolly Times (1947), Big Chuckle Comic (1948) and Funstar Comic (1949), before returning to the AP in the 50s, drawing "The Old Woman Who Lived in a Shoe" for Jack and Jill from 1954 to 1964, when it was transferred to Harold Hare's Own Paper.
Booth was a meticulous artist whose forte was the adventure strip, but who was equally home on humour strips. He put in a great deal of research into his subjects, an approach which influenced his assistant and protegé H. Stanley White, who inked backgrounds and lettered for Booth for two years before becoming an artist and publisher in his own right. Vincent Daniel was another of his assistants. Booth died in Barmouth, Wales, on 18 February 1971.
References
Edit
Alan Clark, Dictionary of British Comic Artists, Writers and Editors, The British Library, 1998, pp. 21-22
Online reference
Edit
External links
Edit
Ad blocker interference detected!
Wikia is a free-to-use site that makes money from advertising. We have a modified experience for viewers using ad blockers

Wikia is not accessible if you've made further modifications. Remove the custom ad blocker rule(s) and the page will load as expected.