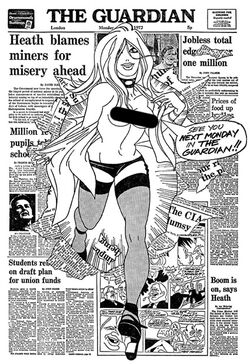 Varoomshka was a quarter-page strip by John Kent, in which the adventures of a wide-eyed, scantily clad (if that) blonde innocent in the Jane tradition commented on the politics of the day. It appeared every Monday in, of all places, The Guardian, despite some of its more right-on staff (unsuccessfully) getting up a petition to ban it, from 13 October 1969. In 1977 it was reduced in size to make way for Posy Simmonds' first strip, The Silent Three of St Botolphs, and in 1979 it was dropped, for which feminists, apparently inaccurately, claimed the credit. She briefly appeared in the National Union of Journalists' house magazine The Journalist in 1980, before being banned for supposed sexism. Kent later created two more strips in a similar vein, Zelda, for the Sunday Times in 1982, and La Bimba for The Times in 1998.
Varoomshka's name was inspired by the German model-turned actress Verushka, and visually based partly on Kent's wife Nina Brilliant, an editor at Mills & Boon, and partly on their friend Liz Barnes.
References
Edit
Ad blocker interference detected!
Wikia is a free-to-use site that makes money from advertising. We have a modified experience for viewers using ad blockers

Wikia is not accessible if you've made further modifications. Remove the custom ad blocker rule(s) and the page will load as expected.