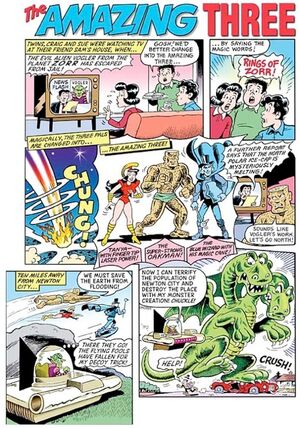 Trevor Metcalfe was born in Brotton, Yorkshire, in May 1939, and started cartooning at the age of eight, during a stay in hospital. He was inspired by the work of sports cartoonist Tom Webster, and his early work was modelled on his style. He also names Reg Parlett, Dudley D. Watkins and Allan Morley as influences. He studied at art school alongside Robert T. Nixon, and the pair struck up a partnership, Metcalfe writing and Nixon drawing.
After his National Service, Metcalfe began freelancing for DC Thompson in the early 1960s, drawing strips like "The Smasher" and "The Babes 'n' the Bullies" for The Dandy, but gave it up to work as a lithographic artist for a printing firm. In the mid-60s he returned to comics, working for Fleetway, later IPC, humour weeklies, both drawing and writing. Strips he drew included "Our Great Grandfather" (1965) and "Jasper the Grasper" (1972) for Buster, "Sweet Tooth" (1972-) and "Junior Rotter" (1980-) for Whizzer and Chips, "Ad Lad" (1974-75) and "Sheerluck and Son" (1978-79) for Whoopee!, "Doughnut and Rusty" (1975-76) for Monster Fun, "Birdman and Chicken" (1977-78) for Krazy, and "The Amazing Three" (1979-80) and "Angel's Proper Charlies" (1979-82) for Jackpot
In the 1990s and 2000s he drew for The Beano, including "Billy Whiz" (early 90s, 2005-07), "Roger the Dodger", "Ivy the Terrible" and "Les Pretend", and The Dandy, including "Growing Paynes". He currently draws for licenced comics like Thomas the Tank Engine and Ronald McDonald and Friends, working digitally using a Wacom tablet.
References
Edit
Alan Clark, Dictionary of British Comic Artists, Writers and Editors, The British Library, 1998, p. 111-112
Online reference
Edit
External links
Edit
Ad blocker interference detected!
Wikia is a free-to-use site that makes money from advertising. We have a modified experience for viewers using ad blockers

Wikia is not accessible if you've made further modifications. Remove the custom ad blocker rule(s) and the page will load as expected.