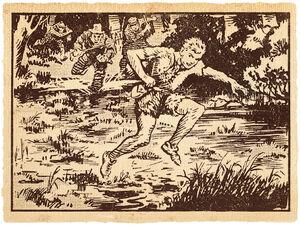 Richard "Toby" Baines (b. c. 1895; d. 28 December 1967) was a staff artist at DC Thomson who drew for their comics and story papers in the 1930s-50s. For The Beano He drew "Wild Boy of the Woods" (1939-42, 1947-49), "Hawkeye, Bravest of the Braves" (1951) and "Grip" (1952). He also provided story headings and spot illustrations for numerous prose stories in The Beano and The Dandy.
References
Edit
Alan Clark, Dictionary of British Comic Artists, Writers and Editors, The British Library, 1998, p. 6
Ad blocker interference detected!
Wikia is a free-to-use site that makes money from advertising. We have a modified experience for viewers using ad blockers

Wikia is not accessible if you've made further modifications. Remove the custom ad blocker rule(s) and the page will load as expected.