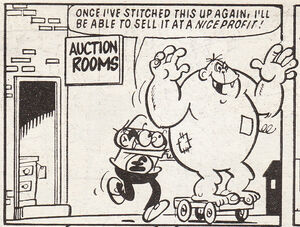 "Tiny Tycoon" is a strip that ran in Whizzer and Chips in 1974-78, drawn by Tom Williams. Although sounding like another one of those strips about incredibly rich children ("Mustapha Milion", Richie Rich and so forth) "Tiny Tycoon" had an unusual spin: its main character was not rich, just a budding businessman, with each strip following his money-making schemes.
Although Tiny originally ran in the Whizzer section of the comic, it returned in the early 1980s in the Chips section. Some of the strips during this era were drawn by Jim Watson.
Ad blocker interference detected!
Wikia is a free-to-use site that makes money from advertising. We have a modified experience for viewers using ad blockers

Wikia is not accessible if you've made further modifications. Remove the custom ad blocker rule(s) and the page will load as expected.