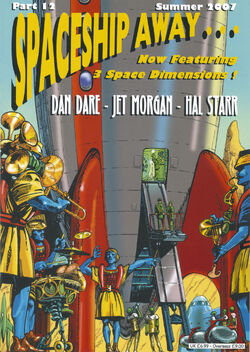 Tim Booth, born County Kildare, Ireland, 6 September 1943, is a County Kerry-based artist and musician. He was educated at Quakers in Waterford, graduated in Arts from Trinity College, Dublin, in 1964, and after a brief period in advertising, turned to painting. He received critical attention as one of Ireland's first Pop Artists, exhibiting in the Irish Exhibition of Living Art, the Brown Thomas Gallery and the annual Independent Artists exhibition.
He is the guitarist and vocalist of the pychedelic folk-rock group Dr. Strangely Strange, has made animated films including The Family Holiday, SW7, The Prisoner and Ulys, and has represented Ireland at the Berlin Film Festival. He now lives and works between Valentia Island and Ballinskelligs, County Kerry, and exhibits at his studio in Ballinskelligs.
Since 2006 he has been creating new adventures of the original Dan Dare for the fanzine Spaceship Away. He wrote and drew "The Gates of Eden" in issues 9-21 (2006-2010) and has started a new series, "Parsecular Tales", in issue 22 (2010). He has also drawn or co-drawn the lead strip, "Green Nemesis", written by Rod Barzilay, since 2006.
External links
Edit
Wikia: Irish Comics
Ad blocker interference detected!
Wikia is a free-to-use site that makes money from advertising. We have a modified experience for viewers using ad blockers

Wikia is not accessible if you've made further modifications. Remove the custom ad blocker rule(s) and the page will load as expected.