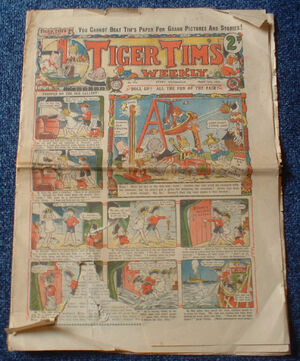 Tiger Tim's Weekly (Tiger Tim's Tales for the first few months of its existence) was a nursery comic published by Amalgamated Press. It was launched on 1 June 1919, and ran until 18 May 1940, when it was merged into The Rainbow.
As its title suggests, it starred Tiger Tim and the Bruin Boys  later drawn by Herbert Foxwell, a character who originated in The Rainbow, originally created by Julius Stafford Baker. Tim and the other boys at Mrs Bruins school first appeared as a 'colour' supplement to 'The World and His Wife' in the 1890s
After Foxwell, and others, the originators Son (with the same name) took over the strip at the A.P. in the 1950s
Other strips include:
'Lockie' was still working, though unwell, for the A.P. in the 1950s.
References
Edit
References
Edit
Ad blocker interference detected!
Wikia is a free-to-use site that makes money from advertising. We have a modified experience for viewers using ad blockers

Wikia is not accessible if you've made further modifications. Remove the custom ad blocker rule(s) and the page will load as expected.