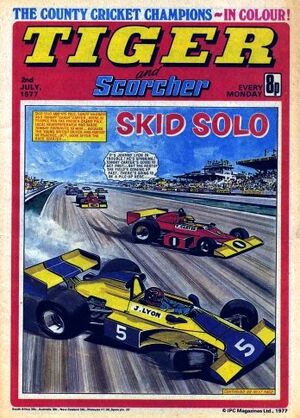 Tiger was a boys' weekly published by the Amalgamated Press, later Fleetway and IPC, launched by editor Derek Birnage on 11 September 1954, subtitled "The Sport and Adventure Picture Story Weekly", and featuring predominantly sporting strips. Sports stars such as Geoff Boycott, Trevor Francis, Ian Botham and Charlie Nicholas wrote columns. Its lead strip was football series "Roy of the Rovers", created by Frank S. Pepper and Joe Colquhoun, which eventually spun-off into its own title in 1976, and continued in Tiger until 1978.
It absorbed The Comet (1959), Hurricane (1965), Jag (1969), Scorcher (1974) and Speed (1980), and was merged into Eagle in 1985. In the latter half of 1961 it spawned Tiger Sports Picture Library.
Strips included:
External links
Edit
References
Edit
Online reference
Edit
Ad blocker interference detected!
Wikia is a free-to-use site that makes money from advertising. We have a modified experience for viewers using ad blockers

Wikia is not accessible if you've made further modifications. Remove the custom ad blocker rule(s) and the page will load as expected.