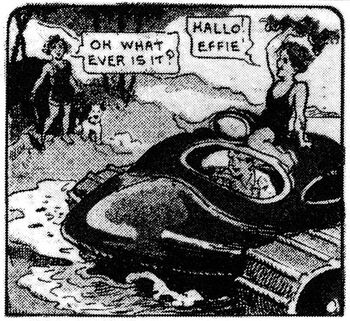 Thomas Costerton Gilson was born on 26 September 1885 in Bromley, Kent, son of Thomas Gilson, a fishmonger, and his wife Elizabeth, a dressmaker. By 1901 the family were living in Battersea, London, and Thomas, aged 15, was working as an upholsterer's draughtsman. By 1911 he was working as a black and white artist and living in Battersea with his Russian wife Anna, his mother, and his grandfather John Brown. From the 1910s he drew comic postcards, and from the 1920s his work appeared in the Amalgamated Press' comics on such strips as "The Tinkerbell Tree" (1921) in Tiger Tim's Weekly, "The Magic Wood" (1928) and "Brave Joe" (1938-53) in Playbox, and "Chums of the Sea" (1933) in The Rainbow. In the 1940s he drew for short-run comics from small publishers. He died in Hastings, Sussex, in the second quarter of 1971.
References
Edit
Alan Clark, Dictionary of British Comic Artists, Writers and Editors, The British Library, 1998, p. 65
Denis Gifford, Encyclopedia of Comic Characters, Longman, 1987
Ad blocker interference detected!
Wikia is a free-to-use site that makes money from advertising. We have a modified experience for viewers using ad blockers

Wikia is not accessible if you've made further modifications. Remove the custom ad blocker rule(s) and the page will load as expected.