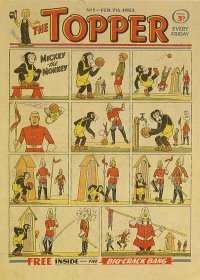 The Topper was a weekly comic launched by DC Thomson on 7 February 1953. It absorbed Buzz in 1975 and Sparky in 1977, and merged into The Beezer on 15 September 1990.
A strip named "Mickey the Monkey", created by Dudley D. Watkins, originally graced the front cover. In the early 1970s, it was replaced by "Send for Kelly". That strip was replaced with "Danny's Tranny" in 1975, and then "Tricky Dicky" in 1979. "Beryl the Peril" took over on 24 May 1986, and remained there until the merger with The Beezer. There were also annuals every year.
Unlike most other comics at the time, which were half tabloid size, the Topper was double this at full tabloid. It changed to A4 in 1980, one year before The Beezer.
Strips included:
Well known creators who worked for The Topper include:
References
Edit
Online reference
Edit
Ad blocker interference detected!
Wikia is a free-to-use site that makes money from advertising. We have a modified experience for viewers using ad blockers

Wikia is not accessible if you've made further modifications. Remove the custom ad blocker rule(s) and the page will load as expected.