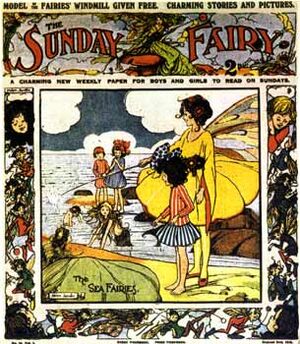 The Sunday Fairy was a comic published by the Amalgamated Press. It was launched on 10 May 1919, renamed The Children's Sunday Fairy on 11 October 1919, then The Children's Fairy on 1 November 1919. On 16 April 1921 it was relaunched as Bubbles and the Children's Fairy.
Amongst its contributors was illustrator Helen Jacobs. Strips included:
References
Edit
Denis Gifford, Encyclopedia of Comic Characters, Longman, 1987
Ad blocker interference detected!
Wikia is a free-to-use site that makes money from advertising. We have a modified experience for viewers using ad blockers

Wikia is not accessible if you've made further modifications. Remove the custom ad blocker rule(s) and the page will load as expected.