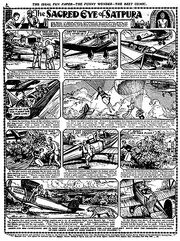 The Sacred Eye of Satpura by George Heath, published in The Funny Wonder in 1934.  

This strip was also published for 112 weeks, from August 24, 1940 to October 10, 1942, in Montréal french weekly magazine LE SAMEDI under the title L'OEIL SACRÉ DE SATPURA.
From 1918 to 1958, LE SAMEDI published over 100 different UK comic strips including top comic artists such as REG PERROTT, WALTER BOOTH, GEORGE GILLINGHAM and ARTHUR MANSBRIDGE. Many of those strips are yet to be identified.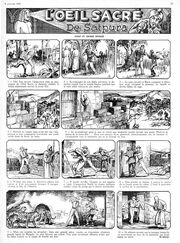 Ad blocker interference detected!
Wikia is a free-to-use site that makes money from advertising. We have a modified experience for viewers using ad blockers

Wikia is not accessible if you've made further modifications. Remove the custom ad blocker rule(s) and the page will load as expected.