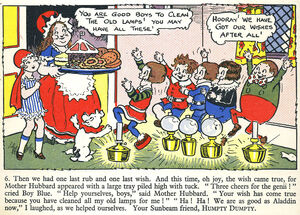 "The Merry Mischiefs" is a strip that ran in Sunbeam, drawn by Freddie Crompton, starring a set of characters lifted from nursery rhymes and fairy tales: Simple Simon, Jack Horner, Boy Blue, Johnny Stout and Humpty Dumpty were cast as mischievious schoolboys, little Red Riding Hood took on a sort of elder sister role, and Mother Hubbard served as a teacher; Dog Toby rounded out the cast.
The appropriation of fantasy characters for a strip with such a conventional setting seems a trifle odd. A strip in the 1935 Sunbeam Annual is particularly strange, as the fairy tale figures are seen attending a stage version of Aladdin.
Ad blocker interference detected!
Wikia is a free-to-use site that makes money from advertising. We have a modified experience for viewers using ad blockers

Wikia is not accessible if you've made further modifications. Remove the custom ad blocker rule(s) and the page will load as expected.