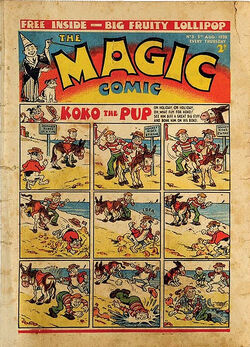 The Magic Comic was a weekly comic published by DC Thomson from 22 July 1939 to 25 January 1941. A companion to The Beano and The Dandy, aimed at younger readers, it didn't survive WWII paper rationing.
It was not related to the Magic Comic published in the 1970s.
Strips included:
Ad blocker interference detected!
Wikia is a free-to-use site that makes money from advertising. We have a modified experience for viewers using ad blockers

Wikia is not accessible if you've made further modifications. Remove the custom ad blocker rule(s) and the page will load as expected.