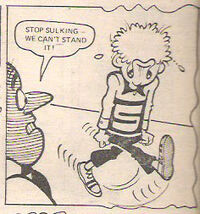 "The Incredible Sulk" is the name of two separate strips about stroppy kids, both inspired by Marvel's The Incredible Hulk.
The first ran in IPC's Jackpot in 1979-82, drawn by Jim Petrie, starring an amiable, curly-haired boy who threw spectacular tantrums at the slightest provocation, his lower lip protruding so much it covered his whole face, and his dialogue reduced to baby talk.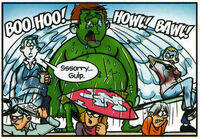 The second ran in DC Thomson's The Dandy in 2012, drawn by S. J. Beckett, and starred a boy who turned into a giant, green, blubbing monster when things didn't go his way.
References
Edit
Denis Gifford, Encyclopedia of Comic Characters, Longman, 1987, p. 103
Ad blocker interference detected!
Wikia is a free-to-use site that makes money from advertising. We have a modified experience for viewers using ad blockers

Wikia is not accessible if you've made further modifications. Remove the custom ad blocker rule(s) and the page will load as expected.