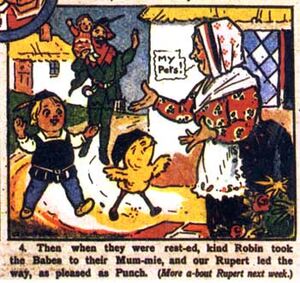 The Chicks' Own was a nursery comic published by the Amalgamated Press from 22 September 1920 to 9 March 1957. It incorporated Bo-Peep and Little Boy Blue in 1934, Happy Days in 1939, and Bubbles in 1941, and was ultimately merged into Playhour.
It's lead character was "Rupert the Chick" by Arthur White. Other artists who contributed included Margaret Banks, J. Louis Smyth, Freddie Crompton ("Tiny and Tot", "Betty, Bimbo and Bunny"), L. Church ("Pussy Tales"), Vera Bowyer ("Fun in Toy Land"), Philip Swinnerton ("Pot and Pan Tales"), Walter Holt ("Robert Rabbit"), Walter Bell ("Snow White and her Merry Friends"), Mildred Entwistle ("Tiny Wee"), and Frances Wood ("David and Alice at Sunshine Farm"). Aimed at very young readers, it split words of more than syllable with hyphens.
References
Edit
Denis Gifford, Encyclopedia of Comic Characters, Longman, 1987
Ad blocker interference detected!
Wikia is a free-to-use site that makes money from advertising. We have a modified experience for viewers using ad blockers

Wikia is not accessible if you've made further modifications. Remove the custom ad blocker rule(s) and the page will load as expected.