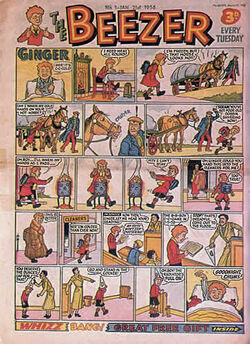 The Beezer was a weekly humour comic published by DC Thomson from 21 January 1956 to 21 August 1993, when it unofficially "merged" with The Beano. It was originally pubished at A3 size, but shrank to A4 in 1981.
Comics that merged with The Beezer during its 37 year run were Cracker in 1976, Plug in 1979, and The Topper in 1990. Although the comic ended in 1993, three other publications continued for a few years afterwards. They were The Best of Beezer (1988-1996), The Beezer Summer Special (1973-2002, known as the Holiday Special from 1998 onwards) and The Beezer Book (1957-2003).
Adventure
Edit
From PlugEdit
From CrackerEdit
External links
Edit
Online reference
Edit
Ad blocker interference detected!
Wikia is a free-to-use site that makes money from advertising. We have a modified experience for viewers using ad blockers

Wikia is not accessible if you've made further modifications. Remove the custom ad blocker rule(s) and the page will load as expected.