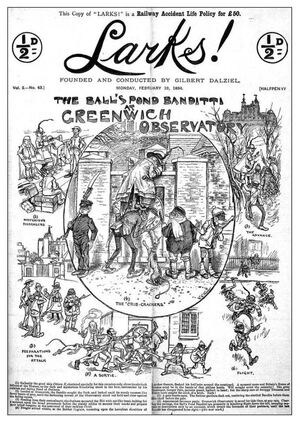 The Ball's Pond Banditti, a gang of juvenile delinquents from Ball's Pond Road in London, created by George Gordon Fraser, appeared in the weekly comic Larks! in 1893-94. Led by Ticko Scuppins of the Ball's Pond Clothing Stores ("From 'enceforth I hemilate the doin's of the Robber Chiefs of hold! Sussiety shall tremble at the name of Bloodwing!"), the gang also included Gorger Pain the doctor's youth, Piggy Waffles of the grocery establishment, Lurcher Geeson the butcher's boy, Sweppy Titmarsh from the rag shop, and Bocco the bold bloodhound. They caused havoc around London landmarks like the British Museum, the Albert Memorial and the Greenwich Observatory, and it can be argued they were the ancestors of characters like the Bash Street Kids.
References
Edit
Denis Gifford, Encyclopedia of Comic Characters, Longman, 1987, p. 15
Peter Hunt, International Companion Encyclopedia of Children's Literature, Routledge, 2004, p. 243
John Henry Stape, The Secret Agent: Centennial Essays, Rodopi, 2007, p. 158
Ad blocker interference detected!
Wikia is a free-to-use site that makes money from advertising. We have a modified experience for viewers using ad blockers

Wikia is not accessible if you've made further modifications. Remove the custom ad blocker rule(s) and the page will load as expected.