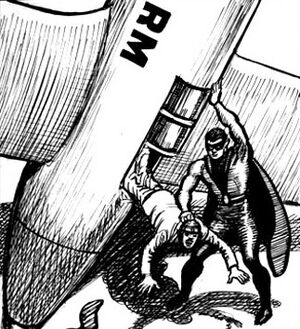 "The Amazing Mr. X" was a strip that ran in The Dandy, back when that comic ran adventure as well as humour material. The strip, drawn by Jack Glass,[1] delivered the exploits of the dashing Les Manners, alias Mr. X, a masked-and-caped crime-fighter who was so strong he could tear the tails off aeroplanes and stuff. The character first appeared in issue 272, dated 5 August 1944; his adventures lasted for only 14 issues,[2] although he made another appearance in a Dandy annual in 1962, drawn by Dudley D. Watkins.[3]
Morris Heggie, who edited The Dandy from 1986 to 2006, described Mr. X as "The closest we've ever had to a super hero". However, he added that "His arch nemeses weren't glamorous.... He would chase people who stole lead from roofs and other small time crooks."[4]
Mr. X Was one of several superhero characters revived for "Retro Active", a partially animated strip in the digital incarnation of The Dandy which launched in December 2012.
References
Edit
Ad blocker interference detected!
Wikia is a free-to-use site that makes money from advertising. We have a modified experience for viewers using ad blockers

Wikia is not accessible if you've made further modifications. Remove the custom ad blocker rule(s) and the page will load as expected.