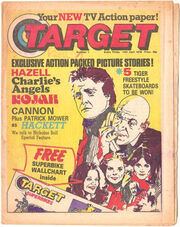 Target was a short-lived weekly comic published by Polystyle Publications in 1978. It was named after the BBC crime series, a strip based on which was its main draw. Other strips in the anthology were also based on TV series. Target eventually merged into TV Comic.
Strips included...
Ad blocker interference detected!
Wikia is a free-to-use site that makes money from advertising. We have a modified experience for viewers using ad blockers

Wikia is not accessible if you've made further modifications. Remove the custom ad blocker rule(s) and the page will load as expected.