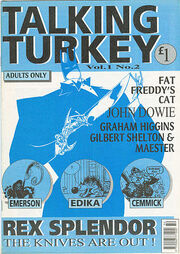 Talking Turkey was an adult humour comic that ran from 1991 to 1992 featuring the work of artists such as Hunt Emerson and the American underground cartoonist Gilbert Shelton.
It's Wikipedia!
Edit
Talking Turkey' was a British adult comic that was published monthly by Galaxy Publications from 1991 to 1992.
Talking Turkey was one of many such comics emulating the success of Viz, yet departed from the usual crude copycat approach of many of its peers by combining 'classic' underground strips with modern content by recognised cartoonists. Its sibling publications were the political Brain Damage, the deliberate Viz clone Gas, and the surreal Elephant Parts.
Went to at least issue: Vol. 2 No. 3.
Artists/Strips included:
(Source)
Ad blocker interference detected!
Wikia is a free-to-use site that makes money from advertising. We have a modified experience for viewers using ad blockers

Wikia is not accessible if you've made further modifications. Remove the custom ad blocker rule(s) and the page will load as expected.