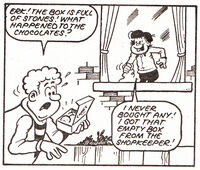 "Sweet Tooth" was a strip that originally appeared in the 6th January 1973 issue of Whizzer and Chips, and moved to Buster after the former comic was cancelled. It was originally drawn by Trevor Metcalfe, with Jim Crocker and Vic Neill later filling in.[1]
The main character wasa boy who ate so many sweets that he only had one tooth left. Early strips used a character named Bully Bloggs as an antagonist; he was later replaced by Greedy Gregg. The stories generally followed Sweet Tooth's various schemes to keep his sweets safe from the thieving Gregg.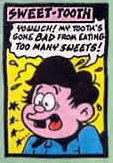 In Sweet Tooth's final appearance, in the last issue of Buster, his one remaining tooth finally went bad.
References
Edit
Ad blocker interference detected!
Wikia is a free-to-use site that makes money from advertising. We have a modified experience for viewers using ad blockers

Wikia is not accessible if you've made further modifications. Remove the custom ad blocker rule(s) and the page will load as expected.