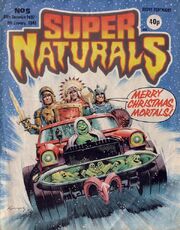 Supernaturals was a fortnightly Fleetway comic based on a line of toys.[1] It ran from 1987 to 1988. It starred two groups of magical warriors (a band of heroes led by Lionheart, who could turn into a lion, and a gang of evildoers led by the undead Skull) who took their conflict from the creepy Ghostworld to our world.
A preview comic was given away as a freebie with the toys.[2]
Promotional copy for the franchise spelled its name as Supernaturals - although, due to the ambiguous logo, many sites refer to it as Super Naturals.
References
Edit
External links
Edit
Ad blocker interference detected!
Wikia is a free-to-use site that makes money from advertising. We have a modified experience for viewers using ad blockers

Wikia is not accessible if you've made further modifications. Remove the custom ad blocker rule(s) and the page will load as expected.