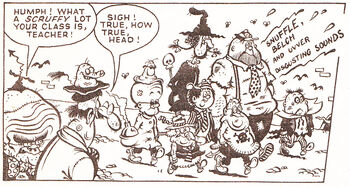 "Strange Hill" is a strip that ran in Whizzer and Chips in the eighties. It was originally drawn by Tom Paterson.[1]
The strip took place in a school where the headmaster and pupils were all monsters, but the teacher was an ordinay fellow. Unlike The Bash Street Kids and similar comics the teacher was not an antagonistic authority figure, but instead a fall guy who came out worst in encounters with his supernatural class.
The strip should not be confused with The Dandy's "Strange Hill School", or the CBBC animated series Strange Hill High. (The title is, of course, a parody of the children's soap Grange Hill.)
References
Edit
Ad blocker interference detected!
Wikia is a free-to-use site that makes money from advertising. We have a modified experience for viewers using ad blockers

Wikia is not accessible if you've made further modifications. Remove the custom ad blocker rule(s) and the page will load as expected.