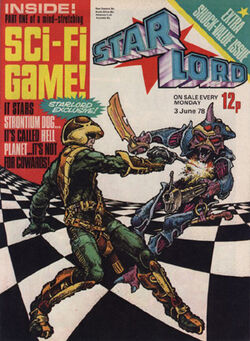 Starlord was a short-lived science fiction weekly published by IPC in May-October 1978 to capitalise on the success of 2000 AD, launched the previous year. It was edited by Kelvin Gosnell, with Steve MacManus as chief sub-editor. Kevin O'Neill, then 2000 AD art assistant, was asked to be art editor, but he declined, so 2000 AD art editor Janet Shepherd was transferred, and O'Neill became art editor of 2000 AD.
It was planned as a monthly or fortnightly full-colour title with longer stories, aimed at an older readership, but before launch its ambitions were scaled back: stories were shortened, the number of colour pages was reduced, and it was published weekly, albeit with better paper quality and a higher cover price. After 22 issues it was merged into 2000 AD. Both titles' sales were in decline, and Starlord was actually the stronger seller of the two, but 2000 AD had lower production costs, and the economic argument won out. The merged title, featuring the best strips from both, was a much stronger comic and sales picked up.
Stories included:
References
Edit
Online reference
Edit
Ad blocker interference detected!
Wikia is a free-to-use site that makes money from advertising. We have a modified experience for viewers using ad blockers

Wikia is not accessible if you've made further modifications. Remove the custom ad blocker rule(s) and the page will load as expected.