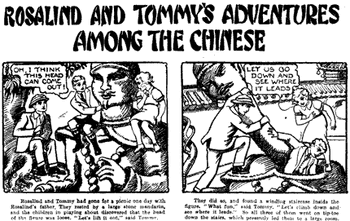 Hugh Stanley White was born in Kilburn, North London, on 6 October 1904, son of Hough White, a sanitary engineer, and his wife Ethel May. He studied at Islington Park College School, Hastings Art School and Chiswick Art School, but his first job was as a heating engineer. In 1926, while sketching at the Natural History Museum, he met Walter Booth, who was already an established comic artist, and became his assistant, working on strips like "Rob the Rover".
By 1929 he was drawing comics in his own right, working on the nursery comic Bo-Peep and Little Boy Blue. Strips he drew for the title include "Ranji's Ruby" (1932) and "In the Days of Drake" (1933). He also drew strips for The Boy's and Girl's Daily Mail, and "Jimmy in Java", "Peter in Pygmy Land" and "Rosalind and Tommy's Adventures Among the Chinese" for the South Wales Echo & Express in the 1930s.
From 1936 he worked for Mickey Mouse Weekly, drawing "Ian on Mu" (1936), the first British science fiction strip, "Ginger Nick the Whaler" "The Phantom City", "Flashing Through" and "Oil and Claw". In 1938 he drew "Into Unknown Worlds" for Butterfly, and "John Irons, Lone Fighter", for an Amalgamated Press title.
After the war he worked for small publishers, starting his own title, Merry Maker, which also featured art by Walter Booth and Basil Reynolds. He drew two comics in American style, Xmas Comic and Atomic Age Comic, as well as "Tornado" for Bob Monkhouse's Oh Boy!. In 1951 he drew some episodes of Young Marvelman. Other titles he worked for included Happy Times, Top Notch, Space Comics and Adventurer.
His last work in comics was in the 1960s. After that, his spent a few years as an advertising illustrator in Kenya, before retiring. He died in Banbury, Oxfordshire, on 21 September 1988, aged 83.
References
Edit
Alan Clarke, Dictionary of British Comic Artists, Writers and Editors, The British Library, 1998, pp. 184-185
Online reference
Edit