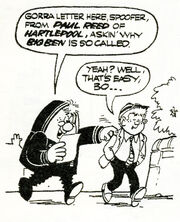 "Spoofer! Master of Kidology" (also known as "Spoofer McGraw") was a strip that ran in Sparky from 1968 to 1974, drawn by Gordon Bell. Its main character, the titular Spoofer would tell lengthy and completely fabricated anecdotes to answer questions sent in by readers: for example, when asked how Big Ben got its name, he claimed that London was built on the site of a farm while its owner was on holiay in Switzerland; the farmer returned with a cold and so mispronounced "pig pen" when angrily raving at the city's constructors. Spoofer's straight partner was Bo, a kid with a duffle coat and a massive head.
Ad blocker interference detected!
Wikia is a free-to-use site that makes money from advertising. We have a modified experience for viewers using ad blockers

Wikia is not accessible if you've made further modifications. Remove the custom ad blocker rule(s) and the page will load as expected.