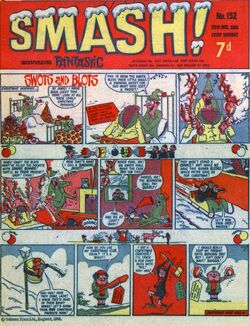 Smash! was a weekly comic published Odhams Press, later IPC. It was launched on 5 February 1966 as a sister comic to Wham!. Its editor was Albert Cosser, and it ran for 257 issues. During 1967 and 1968 Smash! was part of Odhams' Power Comics line. It absorbed Pow! on 14 September 1968 and Fantastic on 2 November 1968. On 3 April 1971 it was merged into Valiant. The Smash! Annual continued to appear each year until 1975.
Strips included:
As with all of the other titles in the Power Comics line, Smash! also included reprints from America's Marvel and DC Comics.
References
Edit
Online reference
Edit
Ad blocker interference detected!
Wikia is a free-to-use site that makes money from advertising. We have a modified experience for viewers using ad blockers

Wikia is not accessible if you've made further modifications. Remove the custom ad blocker rule(s) and the page will load as expected.