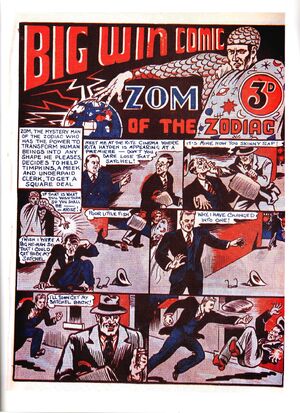 Scion were a British publisher founded by Binyamin Immanuel and his wife Esther Benjamin in 1948, during the period when wartime paper restrictions were gradually easing but import restrictions meant foreign comics remained in short supply. The couple had previously published Smasher Comic (1946) under the name C. A. S. Ltd, and Top Notch Comic (1947) under the name Apex Publicity.
Titles included the "Big" series of one-shots (1948-49):
The "Hero" series of one-shots (1951-52):
Others:
The company also published paperbacks. It was sold to the Henry Squires conglomerate in 1954, and ceased to exist in 1956.
References
Edit
Alan Clark, Dictionary of British Comic Artists, Writers and Editors, The British Library, 1998, pp. 82-83
Ad blocker interference detected!
Wikia is a free-to-use site that makes money from advertising. We have a modified experience for viewers using ad blockers

Wikia is not accessible if you've made further modifications. Remove the custom ad blocker rule(s) and the page will load as expected.