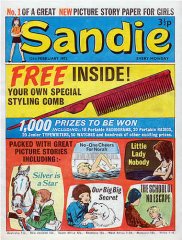 Sandie was a girls' weekly comic published by Fleetway Magazines of Fleetway House, Farringdon Street, London, from 12 February 1972 to 10 October 1973, when it merged into Tammy. Its editor was John Wagner. Stories included:
Ad blocker interference detected!
Wikia is a free-to-use site that makes money from advertising. We have a modified experience for viewers using ad blockers

Wikia is not accessible if you've made further modifications. Remove the custom ad blocker rule(s) and the page will load as expected.