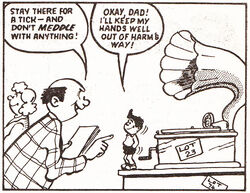 "Sammy Shrink" was a strip that originated in Wham!. It later made its way through a succession of other comics: Smash!, Pow!, Knockout and finally Whizzer and Chips. The strip was originally drawn by Dave Jenner and later by Terry Bave.
Sammy was a tiny boy who got into all manner of scrapes in a Brobdingnagian suburbia. Despite his name, Sammy could not actually shrink, at least not in early strips: he was simply very small. Later strips made use of the idea that Sammy could shrink at will.[1]
References
Edit
Ad blocker interference detected!
Wikia is a free-to-use site that makes money from advertising. We have a modified experience for viewers using ad blockers

Wikia is not accessible if you've made further modifications. Remove the custom ad blocker rule(s) and the page will load as expected.