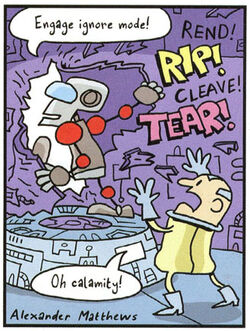 "Robot on the Run" is a strip that ran in The Dandy, first appearing in issue 3508 (October 30, 2010). Written and drawn by Alexander Matthews, it stars a millennia-old robot who finds himself reactivated by staff at the Museum of Ancient Really Awesome Old Things from the Olden Days of the Past in Ipswich. He escapes, hence the title.
Ad blocker interference detected!
Wikia is a free-to-use site that makes money from advertising. We have a modified experience for viewers using ad blockers

Wikia is not accessible if you've made further modifications. Remove the custom ad blocker rule(s) and the page will load as expected.