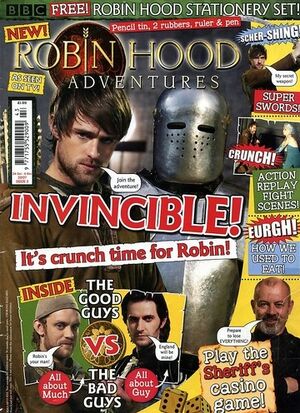 Robin Hood Adventures was a fortnightly comic/magazine launched in October 2007 by BBC Magazines, tying in with the contemporary BBC television series Robin Hood.[1]
The magazine included a humour strip by Craig Donaghy and Paul Cemmick (Cemmick had previously lampooned the Robin Hood legend in another BBC tie-in, the Maid Marian and her Merry Men comics written by Tony Robinson) and a photo strip adapting the TV series. Non-comic features included puzzles and educational sections.
The magazine was criticised by Lew Stringer, who felt that the publication as a whole was "dumbed-down" and objected in particular to the execution of the photo strip.[2]
References
Edit
Ad blocker interference detected!
Wikia is a free-to-use site that makes money from advertising. We have a modified experience for viewers using ad blockers

Wikia is not accessible if you've made further modifications. Remove the custom ad blocker rule(s) and the page will load as expected.