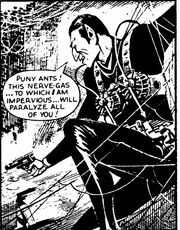 William Reginald Bunn was born in King's Norton, Worcestershire, on 29 October 1905. He was "discovered" when the Amalgamated Press advertised for artists in the late 1940s, starting out drawing Western star Buck Jones for The Comet. He went on to draw many Robin Hood adventures for the same title, and became so associated with the character that when other artists drew him, he was often called upon to redraw their faces. He created Dick Daring of the Mounties for Thriller Picture Library, where other artists were instructed to leave the faces blank so Bunn could finish them. He also drew for Super Detective Library, Cowboy Comics Library and Sun in the 50s, and Tiger and Lion, for which he created The Spider with writer Ted Cowan, in the 60s. He died in Birmingham in 1971.
References
Edit
Alan Clark, Dictionary of British Comic Artists, Writers and Editors, The British Library, 1998, p. 31
Dick Daring of the Mounties at The Belated Nerd
Online reference
Edit
Ad blocker interference detected!
Wikia is a free-to-use site that makes money from advertising. We have a modified experience for viewers using ad blockers

Wikia is not accessible if you've made further modifications. Remove the custom ad blocker rule(s) and the page will load as expected.