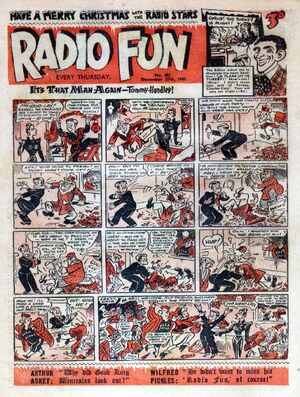 Radio Fun was a weekly comic published by Amalgamated Press (later Fleetway). It launched on 15 October 1938, incorporated Wonder in 1953, and was merged into Buster on 18 February 1961. As its title suggests it was a sister title to Film Fun, but using strips about radio personalities rather than film comedians. Amongst its features were text stories purportedly written by celebrities, but actually more likely to be from staff writers. Although predominantly a humour comic, it also featured a noir-ish crime strip in "The Falcon", and a "Wild Bill Hickok" strip drawn by D. C. Eyles.
Strips included...
References
Edit
Lew Stringer, Christmas comics: Radio Fun 1947, Blimey! It's Another Blog About Comics!, 21 December 2009
Denis Gifford, Encyclopedia of Comic Characters, Longman, 1978
Ad blocker interference detected!
Wikia is a free-to-use site that makes money from advertising. We have a modified experience for viewers using ad blockers

Wikia is not accessible if you've made further modifications. Remove the custom ad blocker rule(s) and the page will load as expected.