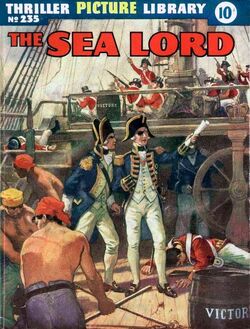 R. M. Sax was born Rudolf Michael Sachs in Berlin, Germany, on 22 May 1897. He had moved to London by 1940, when he married fellow Berliner Anneliese Bromberg. He was a prominent book jacket illustrator from the mid-1940s to the early 1960s, and provided interior illustrations for Queer Shipmates (1962) by Commander A. B. Campbell, and for Everybody's magazine. In comics, he painted two covers for Thriller Picture Library. He died in Marylebone, London, in the fourth quarter of 1969.
References
Edit
Steve Holland, R. M. Sax, Bear Alley, 13 March 2010
Ad blocker interference detected!
Wikia is a free-to-use site that makes money from advertising. We have a modified experience for viewers using ad blockers

Wikia is not accessible if you've made further modifications. Remove the custom ad blocker rule(s) and the page will load as expected.