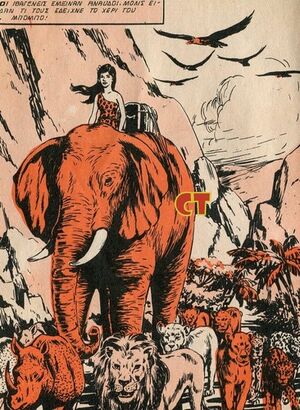 Reginald Ben Davis was born in Wandsworth on 10 December 1907. He became a commercial illustrator around 1930, represented by Byron Studios. He began drawing for boys' and girls' story papers during or shortly after the Second World War. When School Friend was relaunched as a comic in 1950, he drew one of its most popular strips, "Jill Crusoe", for five years, as well as "Jon of the Jungle", "Lost in Red Man's Land", "The Riddle of Beacon Heights" and "Kay of Cedar Creek", among others. He also drew for Princess Picture Library, School Friend Picture Library, and Schoolgirls' Picture Library, for which he painted covers and drew two episodes of "Zanna Jungle Girl".
In the 60s he drew occasional strips for June, but worked less in comics, moving into wildlife illustration, painting covers for the educational magazine Treasure until it folded in 1971. From the late 60s until 1982 he worked for Look and Learn, painting features like "Life in Nature", "Nature's Notebook" and "Nature's Kingdom", and he also illustrated wildlife features for Once Upon a Time. He also illustrated a number of books. He did in Alton, Hampshire, in December 1998.
References
Edit
Steve Holland, R. B. Davis, Illustration Art Gallery, 29 December 2010
Online reference
Edit
Ad blocker interference detected!
Wikia is a free-to-use site that makes money from advertising. We have a modified experience for viewers using ad blockers

Wikia is not accessible if you've made further modifications. Remove the custom ad blocker rule(s) and the page will load as expected.