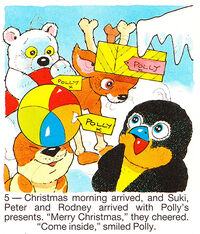 "Polly" was a strip that ran in Twinkle.
Although the name Polly is traditionally associated with parrots, this Polly was a penguin. She lived in Snowland with her pals Suki Seal, Rodney Reindeer and Peter Polar Bear.
"Polly" should not be confused with "Polly's Magic Paintbox", an earlier Twinkle strip which showed a mark lack of penguins.
Ad blocker interference detected!
Wikia is a free-to-use site that makes money from advertising. We have a modified experience for viewers using ad blockers

Wikia is not accessible if you've made further modifications. Remove the custom ad blocker rule(s) and the page will load as expected.