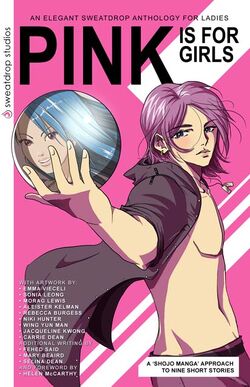 Pink is for Girls: An Elegant Sweadrop Anthology for Ladies is a 2006 book published by Sweatdrop Studios. Influenced by shoujo manga, it was published alongside a companion volume, Blue is for Boys, which contains a set of shounen-styled stories on the same subjects as the strips in Pink.
It contains a foreword by Helen McCarthy, in which she discusses drizzling Johnny Depp in chocolate.
Ad blocker interference detected!
Wikia is a free-to-use site that makes money from advertising. We have a modified experience for viewers using ad blockers

Wikia is not accessible if you've made further modifications. Remove the custom ad blocker rule(s) and the page will load as expected.