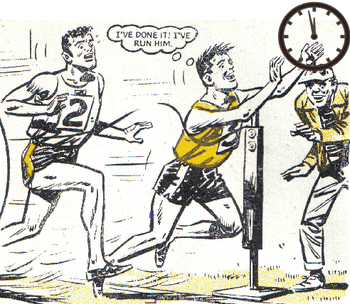 Peter James Sutherland was born in Somerby, Leicestershire, on 11 August 1921.[1] He served in the Royal Electrical and Mechanical Engineers during the Second World War. After the war he joined DC Thomson in Dundee as a staff artist, contributing to their story papers. He married Peggy O'Hara in Dundee in 1948, and they lived in Broughty Ferry near Dundee.
He went freelance in the 1950s, moving back to Leicestershire, and drawing for the Amalgamated Press' Super Detective Library, Thriller Picture Library, Cowboy Comics Library and Air Ace Picture Library. In the 60s and 70s he returned to Thomsons, where he drew The Big Palooka (1965-67) and Mike Fink for The Hornet, and Alf Tupper (1963-1977) for The Victor. He died in the third quarter of 1977.
Footnotes
Edit
↑

Most online reference gives his birth date as 1923, but Births, Marriages and Deaths say different.
References
Edit
Alan Clark, Dictionary of British Comic Artists, Writers and Editors, The British Library, 1998, p. 159
Denis Gifford, Encyclopedia of Comic Characters, Longman, 1987
Paul and Susan Sutherland, Pete Sutherland, the definitive Tupper artist, ToughoftheTrack.net
Online reference
Edit
Ad blocker interference detected!
Wikia is a free-to-use site that makes money from advertising. We have a modified experience for viewers using ad blockers

Wikia is not accessible if you've made further modifications. Remove the custom ad blocker rule(s) and the page will load as expected.