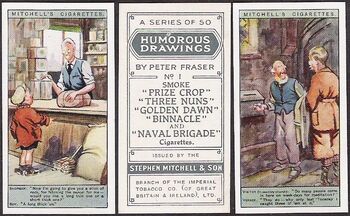 Peter Fraser was born in Walls, Shetland, on 6 November 1888, the son of a fisherman. He moved to London by 1907 to study art at the Central School of Arts and Crafts. He also took correspondence course with Percy Bradshaw.
By 1911 he was living in London and working as an illustrator. He sold his first cartoon to Punch in 1912, and he contributed to it regularly until 1941. Some of his cartoons featured street urchins, probably inspired by his work with deprived children in the East End of London. He published two books, Humour in the East End (1933) and More Humour in the East End (1936), of such cartoons. Other magazines he worked for included Tatler, Sketch, Time and Tide, The Humorist and The Passing Show.
During the First World War he served as a gunner in the Royal Field Artillery and Royal Garrison Artillery, seeing three years of action in France. After the war he started illustrating children's books, starting with Funny Animals in 1921 and being most prolific in the 1940s, as well as cigarette cards and comic postcards. During the Second World War he designed a poster for the Ministry of Information to encourage food production at home under the "Dig For Victory" slogan. He also drew comics, including "Jim Crow" and "Pip the Pup" for Happy Days (1938-39).
In later life he lived in Whitstable in Kent. He was married twice and had two sons. He died in Canterbury in March 1950.
Reference
Edit
Alan Clark, Dictionary of British Comic Artists, Writers and Editors, The British Library, 1998, p. 62
Gordon Howsden, Peter Fraser, Bear Alley, 17 May 2009
Ad blocker interference detected!
Wikia is a free-to-use site that makes money from advertising. We have a modified experience for viewers using ad blockers

Wikia is not accessible if you've made further modifications. Remove the custom ad blocker rule(s) and the page will load as expected.