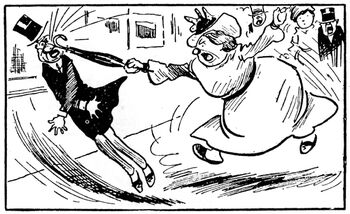 Oliver Edgar Veal was born in Hampstead in the third quarter of 1860. By 1891 he was making his living as a painter and living in Hampstead with his wife Emily and their two sons. By 1901 the family had moved to Brighton.
His work appeared in early issues of Comic Cuts and Illustrated Chips in the 1890s, before he went on to work primarily for the comics of Trapps Holmes and Company. Strips he drew included
By 1911 he and his family had moved to Steyning, Sussex. He died there in the third quarter of 1917.
References
Edit
Alan Clark, Dictionary of British Comic Artists, Writers and Editors, The British Library, 1998, p. 172
Denis Gifford, Encyclopedia of Comic Characters, Longman, 1987, pp. 14, 147, 148
Online reference
Edit
Ad blocker interference detected!
Wikia is a free-to-use site that makes money from advertising. We have a modified experience for viewers using ad blockers

Wikia is not accessible if you've made further modifications. Remove the custom ad blocker rule(s) and the page will load as expected.