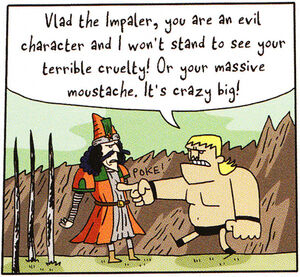 "Nuke Noodle" (also tagged "Nuke Noodle: Wrestler in Time" is a strip from The Dandy by Alexander Matthews, first appearing in issue 3547 in 2011. The main character is a wrestler who travels through time picking fights with various historical figures.
Originally, Matthews envisioned it as an adult strip called "Dick Noodle".[1]
References
Edit
Ad blocker interference detected!
Wikia is a free-to-use site that makes money from advertising. We have a modified experience for viewers using ad blockers

Wikia is not accessible if you've made further modifications. Remove the custom ad blocker rule(s) and the page will load as expected.