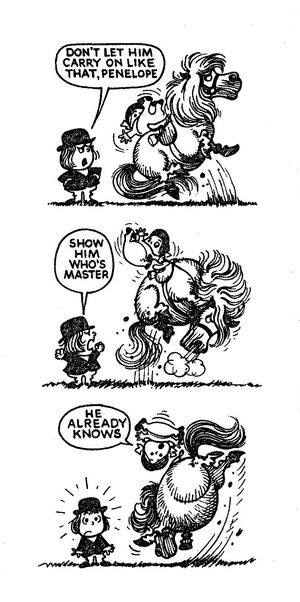 Norman Thelwell was born in Tranmere, Birkenhead, Cheshire, on 3 May 1923, son of Christopher Thelwell, a general labourer and later a maintenance engineer for Lever Brothers, and his wife Emily, née Vick. He was educated at Rock Ferry high school, which he left at 16 to work as a clerk for Silcock's Seed Merchants in Liverpool.
He was called up in 1942. Initially he drew maps and diagrams for the East Yorkshire Regiment, Royal Electrical and Mechanical Engineers, in various postings in Britain. He met his future wife, Rhona Ladbury, at an evening class in art while posted to Nottingham in 1944. Later that year he was posted to India. He published cartoons in the service magazine Victory, and, promoted to sergeant, edited a monthly magazine for the Indian Electrical and Mechanical Engineers from General Headquarters in Delhi. In 1945 he had his first cartoons published in UK magazines, The Artist and London Opinion. After he was demobbed in 1946, he continued to sell cartoons to various magazines, including the Rev Marcus Morris' The Anvil, while studying for a degree at Liverpool College of Art. He married Rhona in 1949. They had a son, David, and a daughter, Penelope. After graduating in 1950, he took a job teaching design and illustration at Wolverhampton College of Art.
He contributed a colour strip called "Pop Milligan" to one of the dummy issues of Marcus Morris' new weekly comic, the Eagle, in 1949, but this did not appear in the published comic in 1950. Instead, Thelwell created "Chicko", a three-panel silent strip which ran regularly until 1962. Between 1952 and 1977 he contributed over 1600 cartoons to Punch, including his first child-on-a-pony cartoon in 1953. He got a regular slot at the News Chronicle, producing two editorial cartoons a week, in 1956, and gave up the day job. When the Chronicle closed in 1960, he moved to the Sunday Dispatch until it closed the following year. From in 1962 to 1971 he drew the regular strip, Penelope, about a little girl and her pony, Kipper, for the Sunday Express. He was a founder member of the British Cartoonists' Association in 1966.
He published over thirty collections of his cartoons during his lifetime, as well as an autobiography, Wrestling With a Pencil (1986), and two volumes of memoirs. He also illustrated numerous books for other authors, and painted landscapes. In his later years he suffered from Alzheimer's disease. He died of heart failure at Bereweeke Court Nursing Home in Winchester on 7 February 2004.
References
Edit
Mark Bryant, "Thelwell, Norman (1923–2004)", Oxford Dictionary of National Biography, Oxford University Press, Jan 2008; online edn, Jan 2009, accessed 20 June 2014
Steve Holland, Norman Thelwell, Bear Alley, 27 April 2008
Online reference
Edit
Ad blocker interference detected!
Wikia is a free-to-use site that makes money from advertising. We have a modified experience for viewers using ad blockers

Wikia is not accessible if you've made further modifications. Remove the custom ad blocker rule(s) and the page will load as expected.