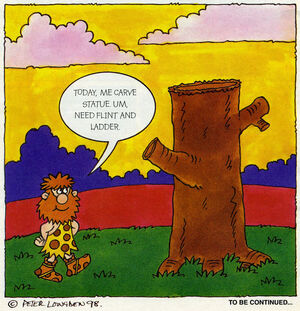 "Neil Ithic" was a strip drawn by Peter Longden that ran in Quackers from issue 12 to 25, telling the largely wordless adventures of a caveman and his dinosaur peers.
The strip underwent a change of format in issue 25 of Quackers, becoming single-panel and continuity-based; the storyline dealt with Neil deciding to carve a tree into a statue. However, as this was the last issue of Quackers, Mr. Ithic's artistic urges went unfulfilled.
Ad blocker interference detected!
Wikia is a free-to-use site that makes money from advertising. We have a modified experience for viewers using ad blockers

Wikia is not accessible if you've made further modifications. Remove the custom ad blocker rule(s) and the page will load as expected.