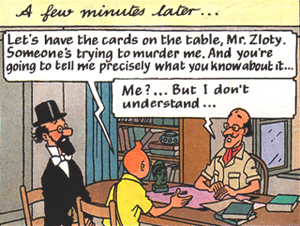 Neil Hyslop was the letterer of the English editions of Hergé's adventures of Tintin, beginning with The Crab with the Golden Claws in 1958. A cartographer in the civil service, he was found by translators Michael Turner and Leslie Lonsdale-Cooper, and hand-lettered all Tintin's adventures in English up to The Blue Lotus in 1983. Since the publication of Tintin in the Congo in 2005, new editions have been re-lettered using a digital font based on the lettering style used in the French editions.
References
Edit
Ad blocker interference detected!
Wikia is a free-to-use site that makes money from advertising. We have a modified experience for viewers using ad blockers

Wikia is not accessible if you've made further modifications. Remove the custom ad blocker rule(s) and the page will load as expected.